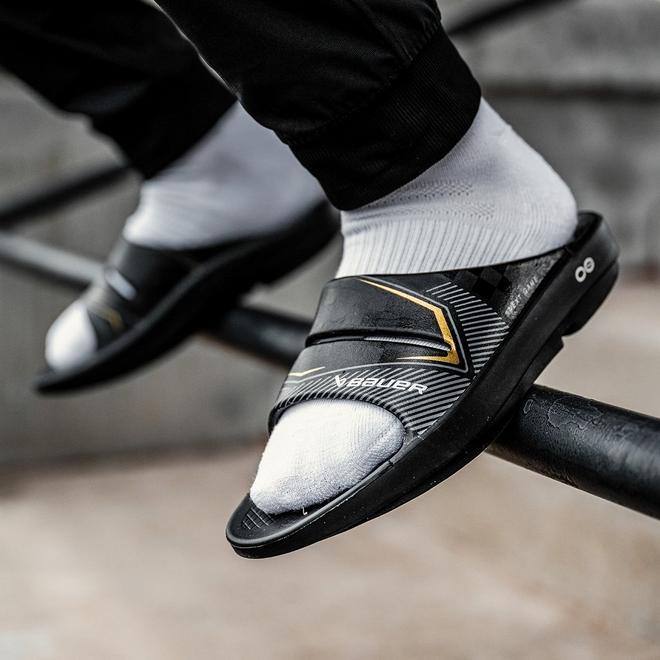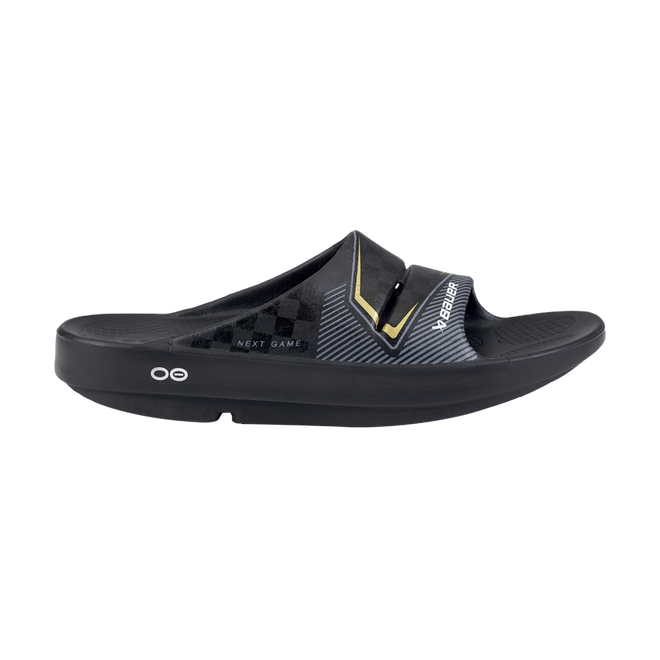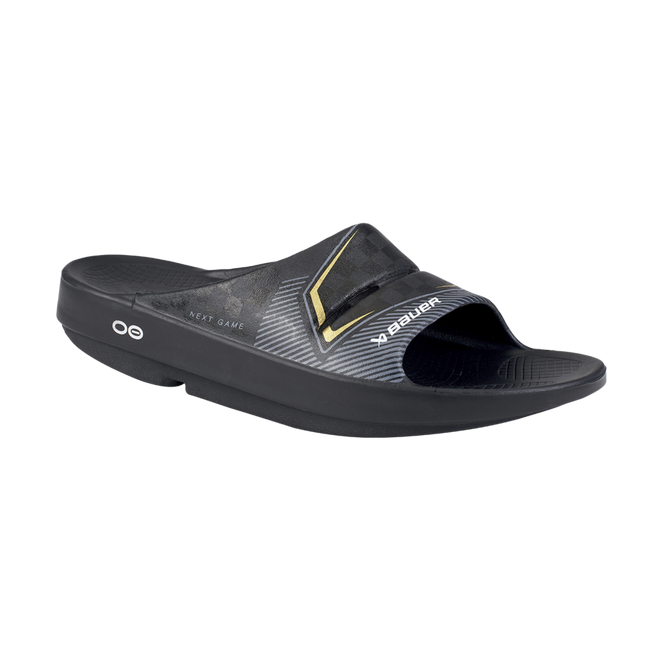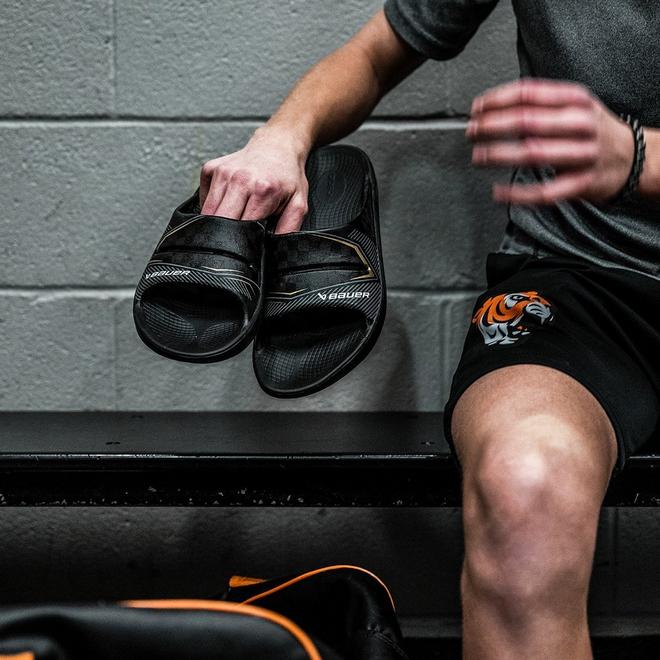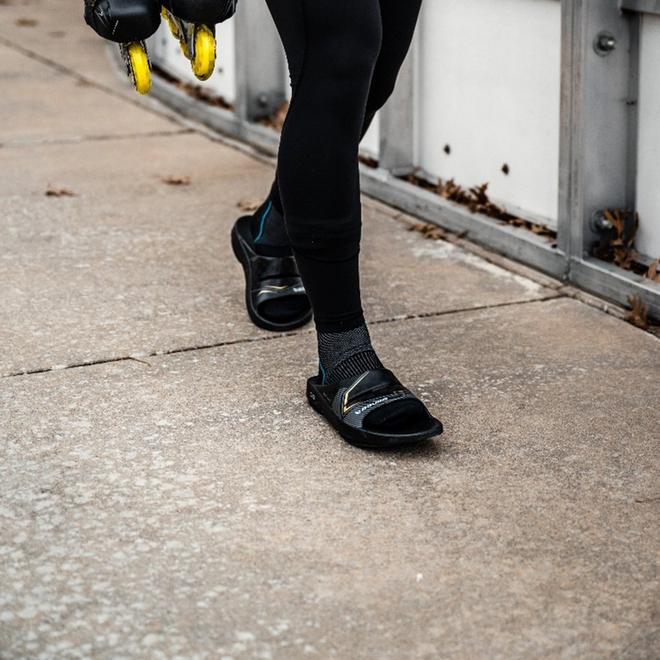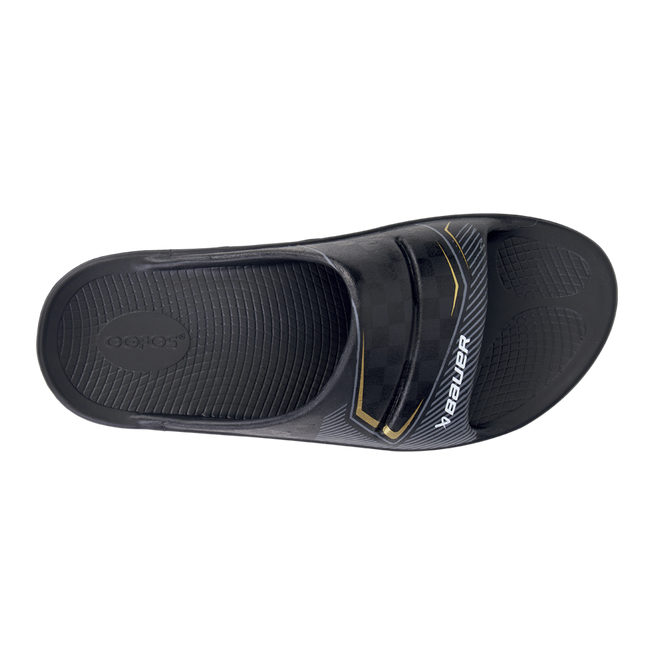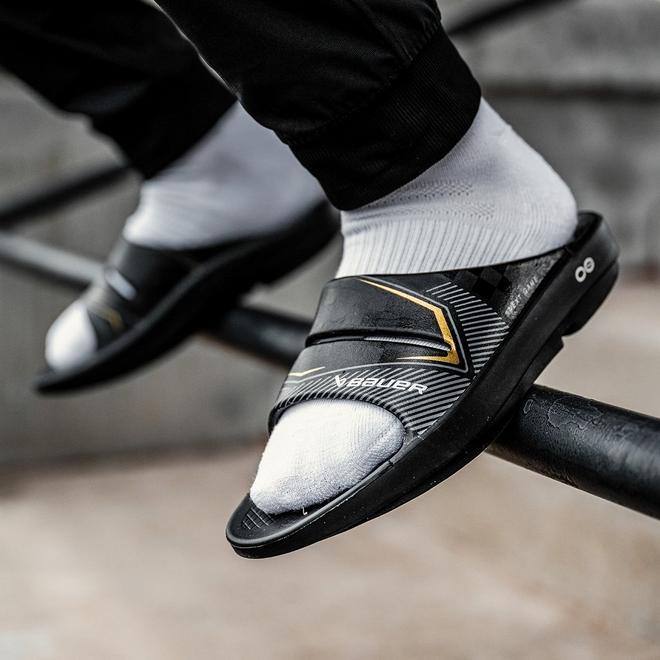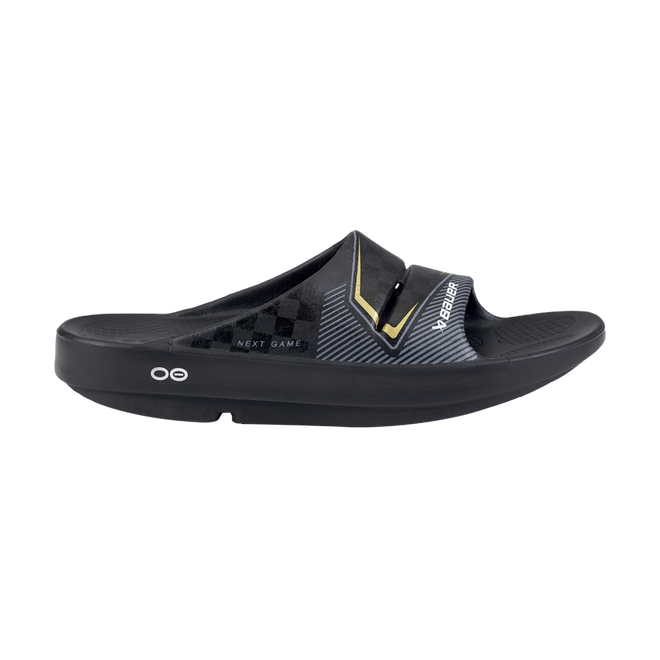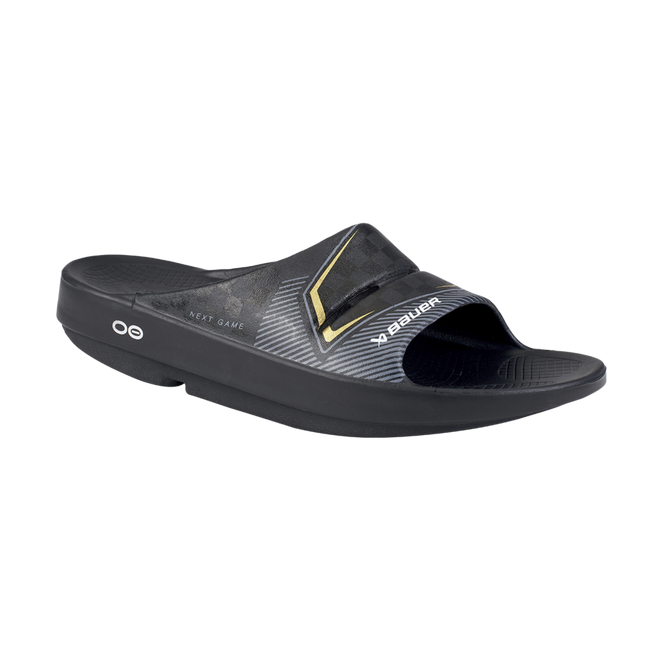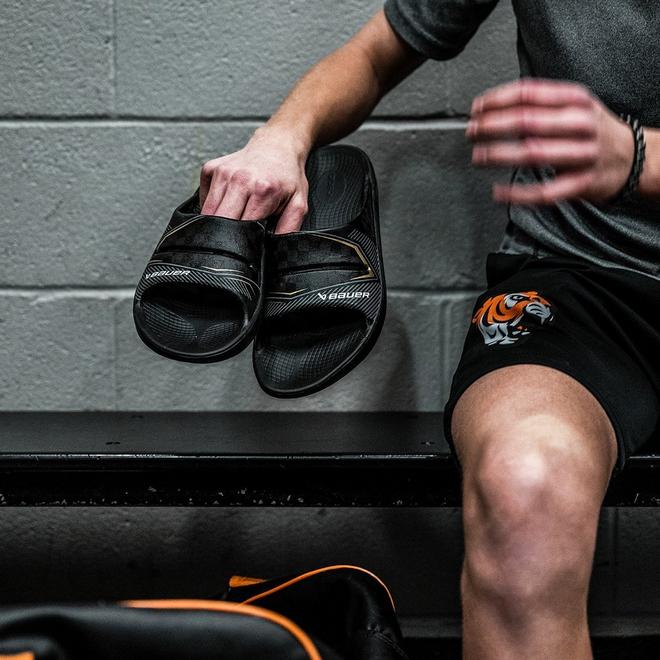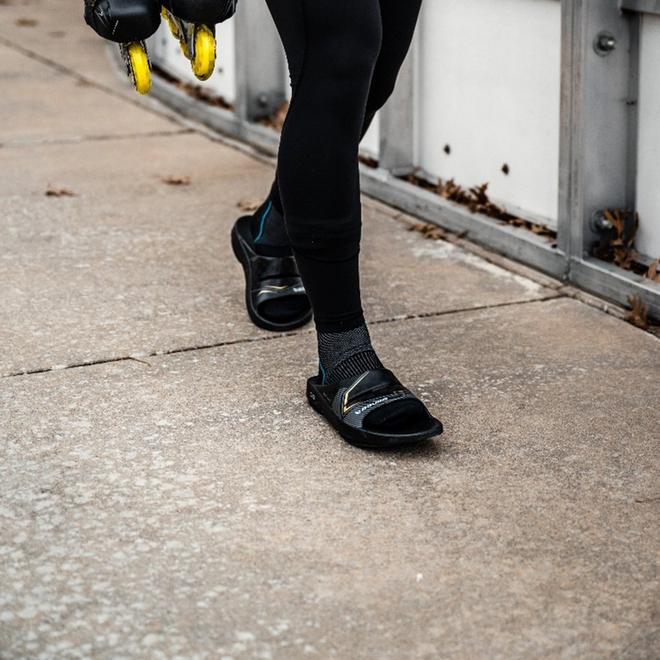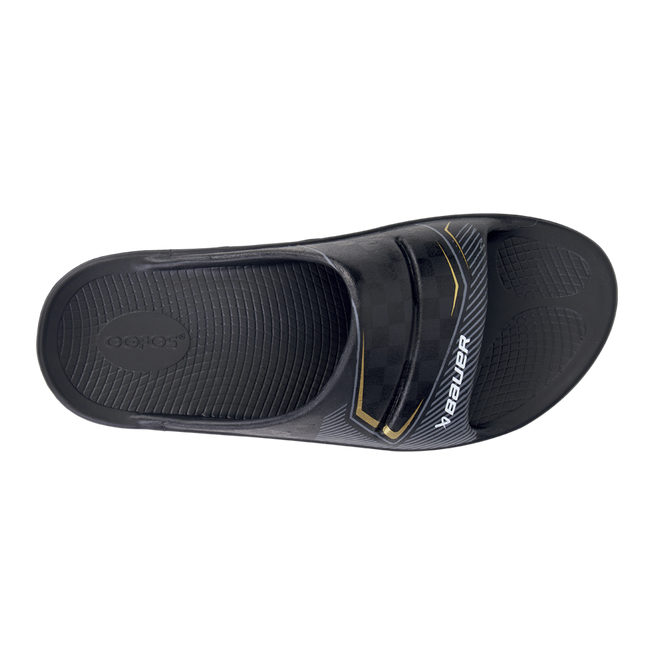 BAUER | OOFOS SLIDE - THE BARTLETT
Detaljer
https://www.bauer.com/en-US/hockey-apparel/apparel-footwear/bauer-%7C-oofos-slide---the-bartlett-602057.html
Rabatterbjudanden
Easy to slide on and off between ice time or training sessions, this sport slide features OOfoam™ technology and a patented footbed for additional support. This unique foam technology absorbs impact, so your body doesn't have to – helping you get back for your next game.
LÄS MER
Variationer
storlek
EU size
foot length
JR3/W5
36
8.7 in
22.1 cm
JR4/W6
37
9.1 in
23.0 cm
JR5/W7
38
9.4 in
23.8 cm
M6/W8
39
9.7 in
24.6 cm
M7/W9
40
10.0 in
25.4 cm
M8/W10
41-42
10.2 in
25.9 cm
M9/W11
43
10.5 in
26.7 cm
M10/W12
44
10.9 in
27.6 cm
M11/W13
45
11.2 in
28.5 cm
M12/W14
46
11.5 in
29.3 cm
M13/W15
48
11.9 in
30.1 cm
Find a Retailer
"When my skates come off, these slides go on."
Pete "Swaggy P" Lenes
Recovery is important. After being on skates all day, I love the unmatched comfort and support of the BAUER | OOFOS Slides. Can't imagine going back to my old sandals. And these look sick!
Show your (O)OFF-Ice Style
Step into Recovery.
Skating is hard on joints, particularly in your feet. Next time you step off the ice, step into a pair of Bauer | Oofos sandals and feel how OOfoam™ technology and patented arch support put you into recovery mode so you're ready for your NEXT GAME.
Absorb 37% more impact than traditional foam sandals
Reduce stress on sore feet, knees and back
Cradle your arches
Enable more natural movement
LÄS MER
Vanliga frågor
BAUER | OOFOS slides are constructed from OOfoam, OOFOS' unique and proprietary, closed cell foam. You won't find it anywhere but in a pair of OOFOS.
When you pick up a pair of BAUER | OOFOS slides, the first thing you notice is their incredible lightness. Put them on and you can feel the difference immediately: that's OOfoam. It's a breakthrough in recovery technology, offering 37% more impact absorption than EVA (traditional foam found in athletic shoes). This means that with each step, the impact that travels from your feet up through your body is reduced by more than a third! So instead of stressing tired feet and joints after a workout, OOfoam and the patented OOFOS footbed absorb impact. When you're not exercising, OOfoam gives your whole body the opportunity to relax, rebuild and recover.
OOFOS was developed by veterans of the athletic footwear industry along with an expert foam chemist, with the mission to create a new material (OOfoam) that could help fitness enthusiasts and athletes recover in between workouts. Much like sports drinks energy gels help people replenish post-workout, we want OOFOS to be your go-to shoe for taking the stress off feet and joints, so that they can rebuild and recover before tomorrow's workout.
Ja! The impact absorption properties of OOFOS really do take pressure off of your joints. This allows you to go about your day after a workout without adding unnecessary stress to feet and joints, giving them time to rejuvenate and recharge
Hockey players rejoice - you can wear your BAUER | OOFOS slides in the shower without risk of damaging the OOfoam technology. As always, be careful when walking around in wet shoes as they can be slippery.
Athletes and fitness enthusiasts were the first to recognize how OOFOS made their feet feel better, helping them to recover after a workout. But people who suffer from various foot issues find that the amazing impact absorption properties of OOFOS provide the relief they're looking for. As well as people just looking for a comfortable, supportive shoe for all day wearing.
Keeping your BAUER | OOFOS sandals looking good as new is easy. You can either toss them in your washing machine on the cold cycle with mild detergent or scrub them in the sink with a brush and mild soap. Once washed, towel them dry and they're ready to wear immediately — or put them out to dry in the shade. NEVER put your OOFOS in the dryer.
BAUER | OOFOS SLIDE - THE BARTLETT